Accroître sa visibilité est la première motivation du commerçant qui souhaite vendre sur Internet. Pour cela, diffuser son catalogue produits sur une ou des marketplaces représente une excellente opportunité. Au-delà du gain de visibilité, vendre sur les places de marché permet d'étendre sa zone de chalandise, d'améliorer sa réputation en ligne. In fine, bénéficier d'un canal de diffusion supplémentaire, c'est l'assurance d'augmenter son chiffre d'affaires. Un tiers des e-marchands vendent sur les marketplaces, ce canal représentant au minimum 10 % du CA pour 63 % d'entre eux 1. Mais quelle marketplace choisir ? Faut-il y diffuser l'intégralité de son catalogue ? Comment se positionner ? Des questions qui ne resteront pas sans réponse, promis !
Which marketplace should I choose for my e-commerce site?
Selling on an e-commerce marketplace, OK, but how do I choose my marketplace? Let's be clear, the offer available is huge. In B2B or B2C, it's like an inextricable jungle for any e-commerce project leader. Consumers' growing demands create a little extra pressure: there's no room for error!
Choose according to your industry
It is tempting to turn to the leaders such as Amazon or Cdiscount. However, is this really appropriate for all e-merchants? These generalist platforms are in fact worthwhile in two main scenarios:
to sell unique products,
to sell them at an ultra-competitive price.
Otherwise, a specialised marketplace is better.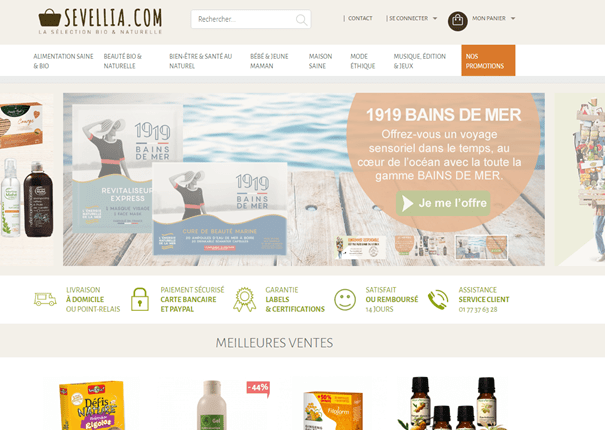 Here is a (non-exhaustive) list of marketplaces by sector.
| | |
| --- | --- |
| Business sector | Marketplace |
| Generalist | Amazon, Cdiscount, MisterGoodDeal |
| Cultural | FNAC, Rakuten, eBay |
| Fashion | La Redoute, Galeries Lafayette, BrandAlley, Spartoo, Vinted, Mon Showroom |
| Electronics/appliances | FNAC, Boulanger, Rue du Commerce, Pixmania, BackMarket, Tech Corner |
| Professional trades | Distriartisan, Outiz, Retif |
| Sport | Go Sport, Alltricks |
| House/garden | Delamaison, Camif, ManoMano, Atelier Sterenn, Nature et Découverte, Deco.fr |
| Health/beauty products | Doctipharma, 1001Pharmacies, Pharmedistore, PharMarket |
| Food & Drink | Les Nouveaux Cavistes, Avenue Des Vins, Sevellia, Gourming, Tentation Fromage etc. |
Our advice: search for a marketplace specific to your domain. They exist for practically every sector, like Naturabuy, for hunting and fishing items, or Le Cargo marketplace, for nautical products.
Don't forget local marketplaces, aimed at a restricted geographic target audience, such as Mes courses en Ardennes, Corsica Market and also Place Vendée.
The most significant marketplaces in France
Here is some information about the marketplaces that dominate the French market.
| | | | |
| --- | --- | --- | --- |
| Marketplace | Some figures | Monthly subscription (excl. VAT) | Commission (see category) |
| Amazon* | 200 million monthly visits, including 40 million unique visitors | €39 | 5-20% |
| Cdiscount* | 2 million unique visitors/day, 8.4 million active customers | €39.99 | 5-22% |
| FNAC Darty | 2,000 sellers | €39.99 | 6.5-16% |
| eBay | 5 million active buyers | €19.50-€149.50 | 3-6.5% |
| Rakuten (prev. Price Minister)* | 15 million visits/month, 20 million members | €39-€499 | 5-19% |
* The Buy Box principal
There is only one product sheet "shared" by all sellers of the same product. Of these, only one has the Buy Box: a box displaying a button allowing a one-click purchase. Of course, the algorithms defining the chosen one are not public! The seller who has this Buy Box benefits from increased visibility and achieves on average 80% of sales on the product in question.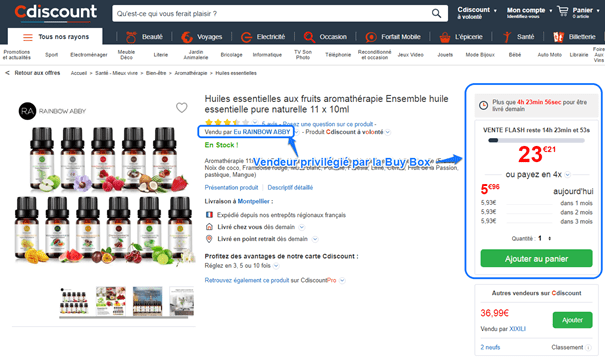 Should I put my entire catalogue on one and how should I position myself?
Once I've chosen my marketplace, how do I go about it? Let's be objective: simply cloning your product catalogue on the selected marketplaces is no guarantee of success.
The catalogue issue for selling on marketplaces
Let's think about it: what options are available to us?
Put the entire catalogue on to determine in situ which products are performing, and which are being shunned (I bet this will reflect online store sales),
put the products on that sell best on your e-commerce store (and only them); this can be seen as a guarantee of selling on marketplaces,
publish slow-selling products: a larger sales area should enable buyers interested in these products to find them (there are bound to be some, aren't there?),
sell unique or not very competitive products.
Our advice for a great start
Test a part of the catalogue! Choose the products with no competition, to stand out more easily, and also end of line products, to be able to offer super-attractive prices.
Finally, between distributing product X and selling a product under your own brand, the second option is obviously more profitable. That's because if no other retailer distributes my products, I set the margin as I wish. So, if the brand exists and has its own small reputation, a manufacturer has every interest in selling on marketplaces.
How do you position yourself in terms of price?
To sell well on an e-commerce marketplace, the proposed prices must be particularly attractive. A "normal" pricing policy is useless. Why? Because it is always the low prices that are promoted.
A common mistake made by "newbies" in marketplace sales is to offer promotions directly on them. This is a double-edged sword to be wary of. This is because sometimes marketplaces align themselves with the retailers' prices. In this case, the promotional price agreed upon loses all meaning. You should always respect your margins by setting a minimum threshold which you do not go below. All in all, it is therefore better to keep your promotions for your website.
How do I take care of my customers on a marketplace?
Delivery: ensure short delivery times and lower costs than the competition.
Returns policy: automate refunds.
Payment method: be flexible and offer varied solutions.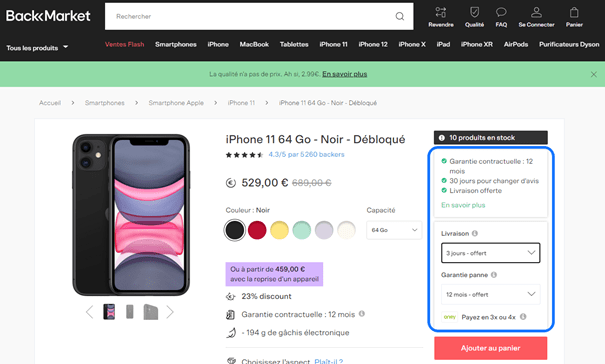 So, before jumping in at the deep end and choosing a marketplace for your e-commerce, it's important to review the different marketplaces on offer which are related to your industry. What's more, it is absolutely necessary to plan your marketplace sales strategy. To be successful, it must be consistent with the market and your own pricing policy. And one last piece of advice: don't forget to work on the SEO of your product sheets when you publish all or part of your catalogue on a marketplace.
Source:
1 https://www.oxatis.com/ressources/etudes/etude-e-commerce-profil-du-e-commercant-2020