Your e-commerce site generates traffic but the impact on turnover and conversions is not exponential. That's normal. You have only come halfway to converting like never before. Put yourself in your customers' shoes: they have come to your site because what you offer interests them. You have made sure you have clear navigation that takes them directly where they want to go: to the product page. Here's what you need to do: when a visitor finds themselves on your product page, they are only one click away from ordering. To help you perform, we will go back over the essentials of optimising a product sheet together, then bring you all the latest gems in terms of e-commerce practices and features.
4 essential basics to boost the conversion of your product sheets
Write unique descriptions
Are you going to create an e-commerce site? Do you want to increase the conversion rate of your online store? Each product description must answer the questions your prospects come up with, while at the same time ensuring that SEO is efficient enough to attract Google.
6 simple and effective tips for writing product descriptions:
Pay attention to your copywriting
Use bulleted lists to structure and clarify your content
Don't write for the sake of writing: make the voice of your brand be heard
Write your description around your main keyword
Incorporate your main keyword in the H1 title (between 60 and 65 characters) and the secondary keywords in the H2s
Write a meta description which includes a call to action (it should be more than 120 characters to be considered by Google and less than 156 to appear in full).
Use professional photos
One of the frustrations of buying online is that you cannot touch the product to assess its quality, texture or size. Note: 93% of consumers consider the visual aspect of a product sheet as a determining factor in their decision to buy.
5 tips for the photos in your product catalogue to be a success:
Show your product from all angles with different views, close-ups on detail etc.
Show the size of the object by putting it in context (on a hand or next to a product to serve as a guide)
Allow the user to zoom in on each image
Ensure that your images are not too big, so they don't slow down the page display (choose JPEGs with up to 70% compression)
Be conscious of your SEO by naming your images and by writing the ALT tag. This will allow Google to list your photos in Google Images, always worthwhile traffic!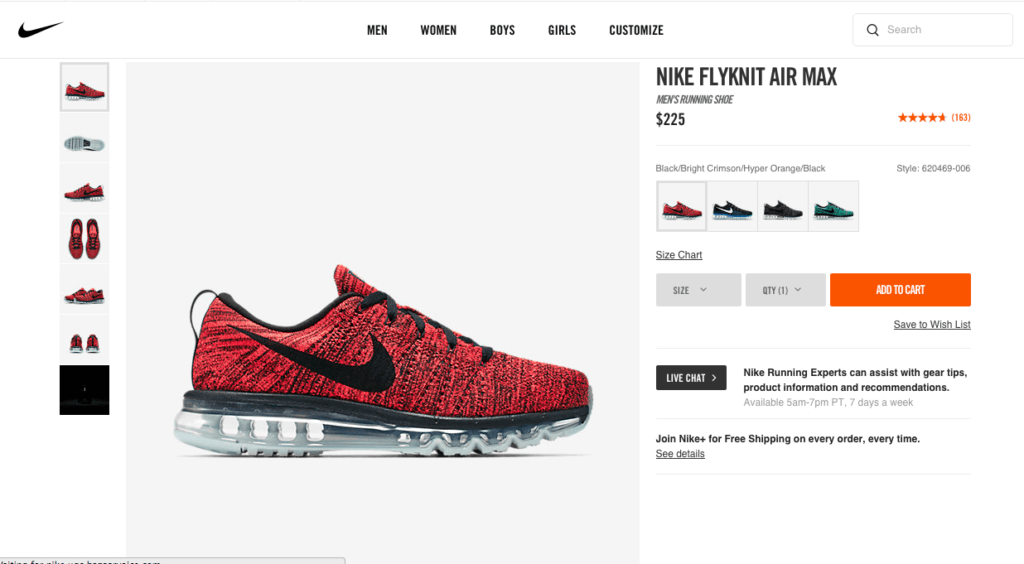 Share positive customer reviews
Social proof shows your prospects that others have bought and liked your product/services. So show off your reviews! You can also add this type of note: "45 people have bought this product this week".
Other ideas to inspire you:
Encourage your buyers to write a review or post a photo/video on social media
Be brave and add a video testimony to blow up the social proof on your site (subtitled is even better)
Try out a rating system to highlight a product's popularity
Display complementary items
Display products which may be of interest to your prospects on the product page. Your buyer will be happy if you offer them the batteries which are compatible with the remote control they have just bought. But what's more, you are encouraging them to visit other product sheets.
4 errors to avoid on your product sheet:
Don't make the mistake of separating the product price from the CTA. These two details are pretty much inseparable, so always put your price right next to your purchase button. Do everything you can to make your prospect's experience easier.
NEVER duplicate the content of your product sheets! Google will not forgive you for it.
Don't display poor quality photographs, this will be detrimental to the success of your products.
Remember to communicate clearly about the delivery (timeframes and return methods).
Innovative practices to test out immediately
Infinite scrolling
What is infinite scrolling? It's a technique which involves putting all content on a single page. When the user comes to the bottom of the page, the website automatically loads further information, without clicking.
This feature allows the user to have a smooth browsing experience, with no need to click to view a large amount of content. To do your shopping, all you have to do is scroll down the page. It's very handy for users who love scrolling on their tablet or smartphone.
Product videos
For "unboxing" in particular. It's an excellent way of reducing the boundary between the digital and real world. The customer sees someone who, like them, receives their package. They reveal the packaging, the care that has been taken with it. This gives them a better idea of what the product would look like "in real life".
Here are some tips to get you started:
Even if the product is the main star of the video, take care with your narration, express yourself clearly and slowly.
Choose simple and tidy decor, if possible in line with your brand image.
Do not prolong the suspense! You must keep your audience's attention, so don't take too long to reveal your product.
Don't stop at opening the packaging. Do a product demonstration.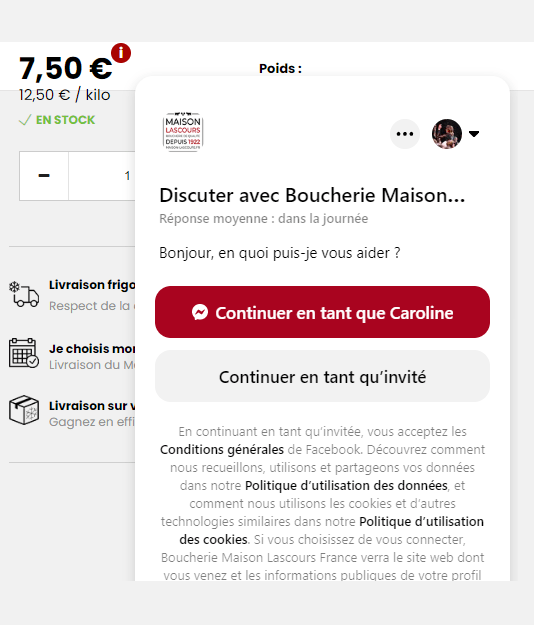 Live chat
A practice put in place by the major e-commerce players, like Darty for example. Do you have a question when choosing your washing machine? An advisor responds and gets rid of all potential obstacles to the sale. Remove objections: it's expensive, offer split payments! In the attached screenshot you can see the dialogue box which appears as soon as the product sheet is opened on the Maison Lascours website. You can talk with the e-merchant by logging into your Facebook account (or as a guest).
Add a sticky "add to cart" button
At the same time as the customer scrolls through the product page, the add to basket CTA always remains visible, above the fold. Very convenient if you have long product sheets. So why not test the power of a sticky CTA on your online store?
Pick up ideas in the apps dedicated to product sheet optimisation:
Quantity box
Product Page Sign-in
Quick buy
Product page tabs
Option display using pictograms
'Back to top' Button
Flash sales
In stock alert
Recommended Retail Price
Packs Configurator
Display payment in X instalments
Display prices with or without VAT
Cross sales
Product comparison
See the NewOxatis Apps Store >>
In conclusion: Test!
You have the basics to develop a product sheet that converts. Try out slightly more innovative practices. The list isn't exhaustive: the share button on social media, the quick buy button (the famous Amazon 'One Click' button which allows you to place an order in a single click). For e-merchants with large average product amounts, consider split payment, the results are instant.