Create an
E-Commerce

Website
Launch your e-commerce business, independently or with support, with a secure and efficient e-commerce platform.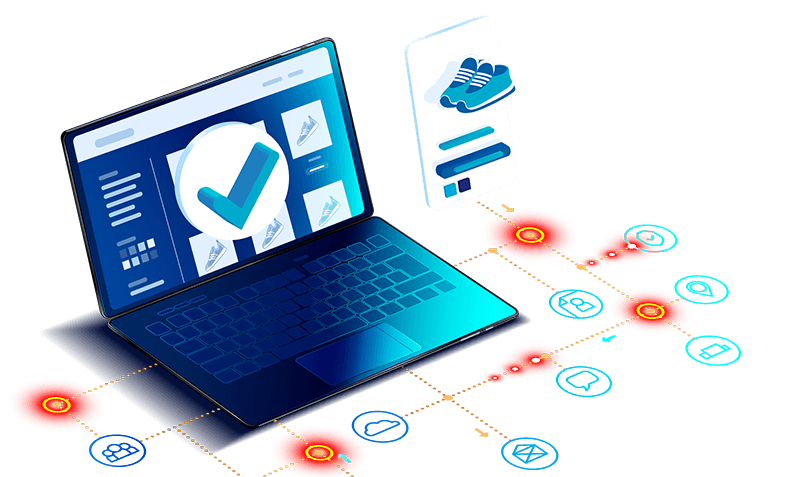 Build your success with Oxatis
Free yourself from technical constraints and focus on launching and developing your business.
Choose the features you need, which are customisable, and which keep up to date with trends and your requirements.
Maintain control over the promotion of your products, build a unique site and a bespoke project adapted to your business activity.
Overcome your technical obstacles, SaaS ensures continuity of service, no maintenance or updates and a high level of security.
You are not alone, an expert can support you at each stage, in the design, management and sharing of your site.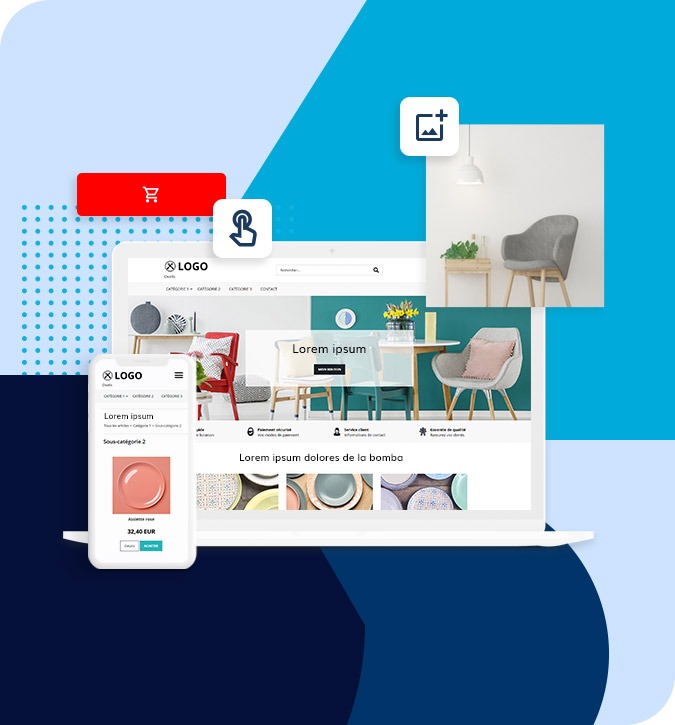 6 Good Reasons to Choose our SaaS eCommerce Platform
A Platform Accessible Everywhere without Technical Resources
All of your e-commerce business in one tool: product promotion, order management, sharing on comparators and marketplaces, your user activity, performance management and monitoring your customer reviews.
Quickly Start your E-Commerce Business
Thanks to Dataplug, integrate/automate/organise your orders, products, images, descriptions, SEO optimisations, pricing, stock, characteristics, ranges, packages, suggestive selling, users etc. directly on your site. For the most advanced, you can also connect your site to your business management software, CRM, ERP (Sellsy, Sage, EBP, Cegid, Wavesoft etc.).
A full Range of Applications, E-Commerce Experts & Partners at your Disposal
You build your eCommerce website step by step; the richness of the platform allows you to activate the features and applications that you need, when you need them. You have the choice of your business partners: more than 40 payment solutions and 20 shipping methods. Our teams assist you and adapt to your business.
A Transparent Business Model
Every month, you know how much your solution costs. Your subscription to the e-commerce platform is based on your level of usage (number of products, number of transactions, various connections) and occasionally, the services, applications and features that you wish to activate.
The Alternative to Traditional E-Commerce Solutions
No dependence on a third party to manage your business, the platform already responds to our client's requirements and you retain your right to change: there's no need to change solutions to enjoy a new design, grow a B2B business or expand internationally.
UK based Experts!
No subcontracting is carried out on the entire solution and we assume responsibility as publisher: GDPR compliance, hosting on servers in Europe to ensure the security of your data and the reliability of our service.

Do you have any questions?

Oxatis supports you at each stage of your site creation
Choose performance with SaaS technology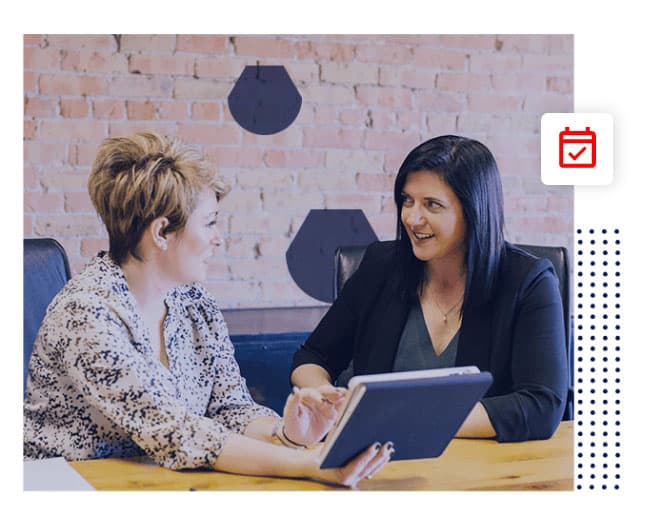 Why choose Oxatis to create your
e-Commerce

site?
A complete and reliable solution, designed to develop your business with ease
Our team takes care of all the technical aspects and supports you in the success of your e-commerce site.
Your role: you focus on your core business and activate the right growth levers to increase your turnover.
E-commerce sites created with Oxatis are on average 66%* more profitable than the average for online stores of the same size.
*The e-merchant profile Oxatis – KPMG
Good news for NewOxatis merchants, just in time to prepare for the Pick Season! Our teams are providing you with a selection of designs ready to be activated in your administration interface. Try it out for free and right now!
read more
Make the choice of a comprehensive solution to manage your
e-Commerce

site

Choose a scalable, high-performance solution and focus on your business. Take advantage of complete and personalised support at each step of your project thanks to the skills of New Oxatis experts to achieve your sales ambitions.

Discover an innovative and secure SaaS technology, more than 650 B2B/B2C features that can be activated and a mobile version of your site optimised for ergonomics and referencing.
Découvrez comment :
Créer et gérer votre site





 Personnaliser votre site


Exploiter votre site 



Questions & Answers
The most frequently asked questions to our e-commerce experts.
What technical specificities should I implement to create item ranges?
The NewOxatis solution offers a wizard to create item ranges (or options) on 3 axes. It allows you to group item variations under a "parent" in order to increase productivity. Each range can have its own price, description, image etc. The range values can be used to create new articles without having to redo everything.
What are the platform limits (number of categories, facets, shipping methods, payment etc.)?
It is difficult to list the solution limits because all fields in IT contain limits such as the number of characters for example. Get in touch with technical support if you have doubts about an option.
Here are the main "limits" of the solution. An item can belong to 10 categories and each category can have up to 10 sublevels. The number of root categories is not limited. It is possible to filter the catalogue by 7 different axes (faceted search) and each item can have 50 types of characteristic and 300 values per characteristic. The number of payment means and shipping methods is not limited (within reason).
What types of discount can I apply?
The Oxatis solution offers all "conventional" discounts, of course: discounts on items, on shopping baskets, with or without a promotional code, by discount grids etc. but also more advanced discounts: depending on basket contents, according to user categories, by price list, sale item, group discount etc.
Do you have a quick content page creation tool compatible with all browsers?
You do not have to have HTML or other coding knowledge to create content pages quickly and easily because we offer a high performing drag and drop page editor. It has been developed to be compatible with all current major browsers.
Is it possible to test the apps before buying them?
Our apps can be very easily tested. To do so, you will benefit from a 15 days trial.
Do you have a module for drop shipping?
Oxatis does not offer a dedicated drop shipping tool.
Is Oxatis compliant with GDPR?
The Oxatis R&D team have carried out the necessary developments for merchants to be GDPR compliant. Configuration is to be carried out at site level. Dedicated online help details the work to be carried out.
What are the means used to secure site data, the servers and the datacenter?
The New Oxatis network administrator engineers manage data security and the security of the datacentre servers 24 hours a day, 365 days a year. Data is saved daily. Since April 2001, the availability rate of the servers has been greater than 99.96%. We are currently in the process of selecting a second datacentre, far away from Marseille, in order to also remove any risk linked to a natural disaster.
Do you offer a feature for renting or reservations?
New Oxatis is a platform intended for e-commerce. There is not a native feature linked to reservations or renting.
Do you have a feature to show the unit price (per kilo, per litre etc.) for sites selling food for example?
Of course we allow our merchants to comply with the law by entering the unit price thanks to an app.
I sell personalisable items. Is this possible with Oxatis?
The Oxatis solution natively allows easy personalisation of items (entering text when placing an order). For advanced use, we offer apps to configure a package (selection of items in a list) or a configurator which calculates the number of items according to the customer's needs. Our teams are also able to carry out a bespoke development to meet all customer requests.

Do you have any questions?