Maximise your visibility online and increase the number of visitors to your site by activating the various e-commerce acquisition channels: organic SEO, advertising, social networks, marketplaces and price comparators etc.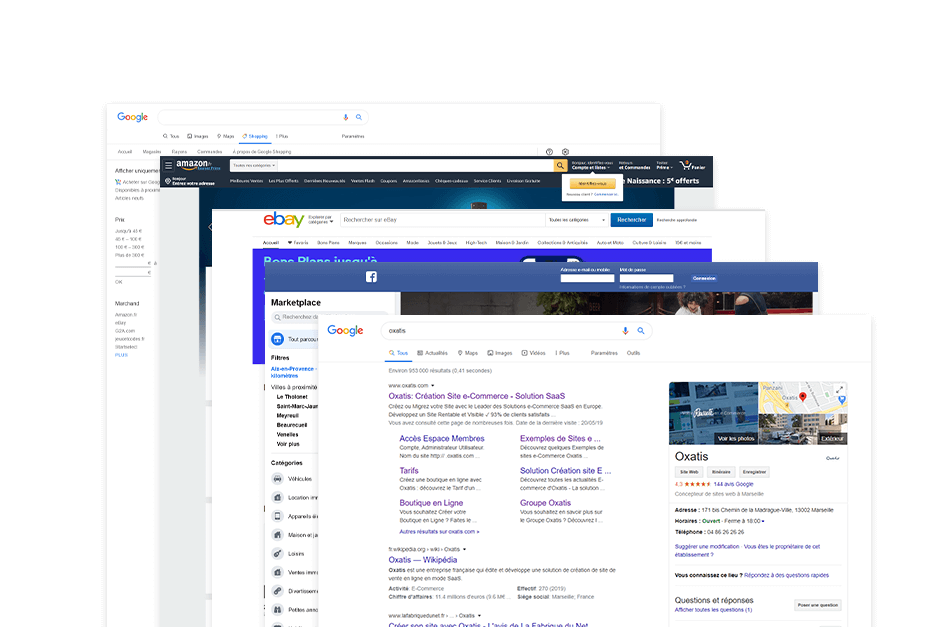 Audience and visibility
An effective multi-channel SEO strategy to be visible and attract quality visitors to your site
The goal of your e-commerce site is to convert your visitors into customers. Visitor acquisition is therefore critical to your success.
The journey of these visitors to your site can take place over several days and stages: use of search engines, price comparisons, information through customer reviews, geolocated searches, discussions with friends on social networks etc.
In order to reach and attract these consumers, track their customer journey, then choose a comprehensive and complementary traffic acquisition strategy. The idea is to have presence on the various channels where your audience is likely to search for you.
Activate your visibility actions on these acquisition levers:
Organic (SEO)
Advertising(SEA): Google Ads, Shopping and display, Facebook Ads…
Social (SMO): social networks and community
Marketplaces and price comparators
To go further in your knowledge of the customer journey, from A to Z, combine your visibility actions with inbound and outbound marketing techniques, on the one hand, bring consumers to your site (inbound) and, on the other hand, go and find them (outbound).
In practical terms, with inbound marketing, establish several actions around a key element, the aim of the content is to interest and therefore attract consumers (content marketing). To do this, think about including SEO campaigns, promotion on social media, white papers, newsletters, customer reviews as well lead nurturing techniques (procedures which consist in maintaining or strengthening a marketing relationship with consumers who are not yet ready to make a purchase)
Also exploit the outbound marketing to spread your message to consumers, to go and "chase after them" in other words. Amongst the most relevant techniques to develop your outbound strategy, think for example of media and non-media (television, press, radio) advertising campaigns, email or SMS campaigns, SEA and SMO etc.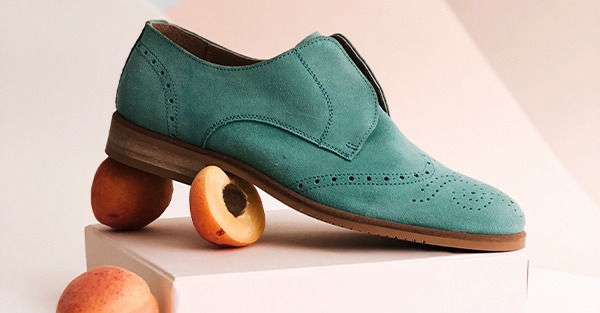 Your e-commerce website drives traffic but the impact on turnover and conversions is not exponential. This is normal. You're only halfway to converting like never before. Put yourself in your customers' shoes: they came to your site because they are interested in your offer. You've made sure you have a clear navigation that takes them directly to where they want to go: to the product page. Here's what you need to achieve: when a visitor arrives on your product page, they are just one click away from ordering.
Key tips for
an effective e-commerce SEO strategy
There is no magic formula to increase the visibility of an e-commerce site!
As purchases are no longer linear – we search, compare, buy, withdraw from the purchase in many different ways – it seems essential to establish a multi-channel and global SEO strategy.
The key to success will then lie in monitoring statistics and measuring the return on investment (ROI) of each traffic source. The goal being:
on one hand, to discover the most effective channels on which to focus your investments (they can vary depending on the products you sell and your target customers),
and on the other hand, to optimise them by accelerating or reproducing what works: a particularly high conversion rate on a Google Ads advertisement or product promotion on Facebook, an increase in traffic – and sales – thanks to a price comparison engine or presence on a new marketplace, etc.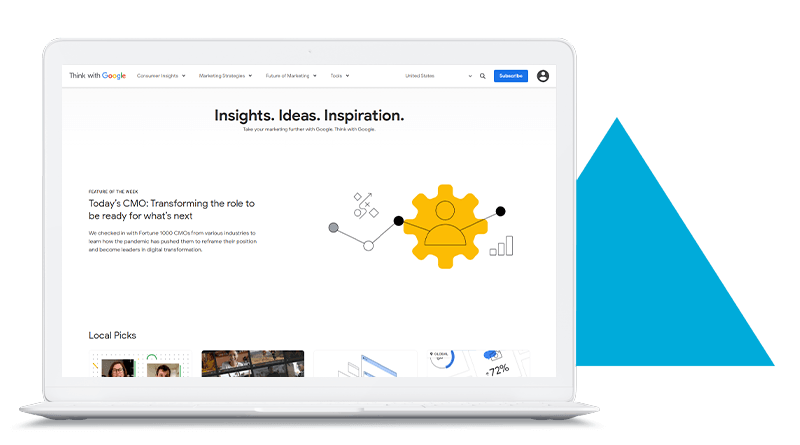 The idea: target more traffic by reducing your acquisition costs.
In addition to putting your visibility actions in place, various tools developed by Google allow you to attract more prospects by positioning your site in the best results. These include: -Test My Site, to optimise the speed of your site, – Rich Answers and other Rich Cards, to increase visibility in search results, – TrueView for shopping, to list your products in YouTube videos etc.
Organic SEO is a set of techniques aimed at optimising your site's presence in search engine results like Google, of course, as well as Bing, Yahoo and their alternatives. And by "optimising presence", we mean "positioning yourself in the first results", especially when we know that 75% of search engine users would never go to the results referenced after the first page (source: Arekestall)..
First and foremost, to understand SEO, you must understand how the giant Google works. Since its creation in the 90s, the search engine's goal has always been to help internet users find the information they are looking for by offering them the best possible results.
There is no human element to define the order of these results. Algorithms do the job, taking hundreds of different criteria into account. Among them: key words, lifespan of the domain, number of links, technical aspects, descriptions, the number of "interesting" pages, updating of information and even activity on social networks.
What you should keep in mind: your SEO strategy should be focused on three main levers which are 
content,
les links (netlinking),
les technical and structural optimisations.
The main advantage of the Organic SEO lever for your e-commerce: it allows you to continuously generate qualified traffic over the long term. For a relatively low cost.
Its constraints: an SEO strategy needs to be worked on and written at the same time as designing the site. The algorithms of search engines change frequently, which requires skills and constant monitoring of Search Engine Optimisation.
Our advice:
Defining your content and link building strategies is essential. Expert support will allow you to increase the positioning of your site, and optimise these two levers, over time.
At the same time, note that relying on a SaaS platform – which allows you to design a site that natively fulfils all SEO technical good practice – will free you from the technical aspect of organic SEO. In practical terms, pooling these allows large scale optimisations and tests. As a result: all customers benefit from an SEO-friendly solution that meets the latest search engine technical requirements, and in particular Google.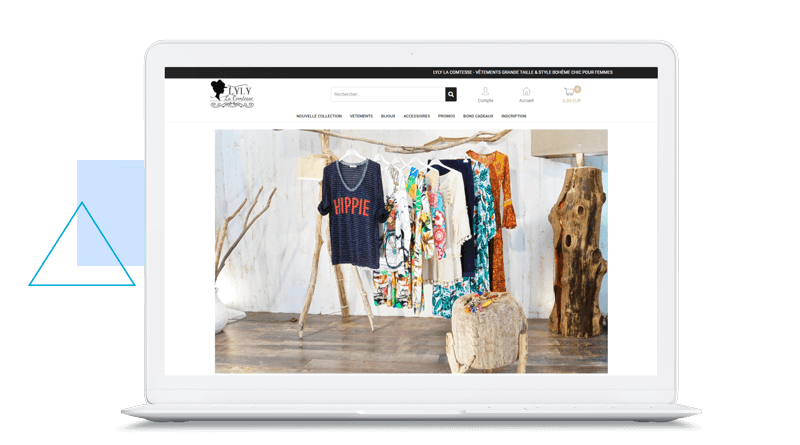 An example of best practice: Lydie Ulpat, co-fondatrice du site de vente en ligne Lyly la Comtesse (marque de vêtements grande taille pour femme), confie l'optimisation de sa stratégie SEO à l'un de nos consultants en référencement depuis 5 ans. Les résultats : après seulement un an de suivi, le site était positionné en première page de Google sur 500 expressions, et aujourd'hui, c'est le cas pour plus de 800 mots clés !
Focus on local SEO
One of the most significant changes in search engines in recent years has been the geolocation of results offered depending on where users are located.
Some figures related to localised searches:
25% of search requests made on Google relate to local searches,
85% of internet users have already searched for local businesses on a search engine,
88% of search requests made on the phone turn into a visit within 24 hours!
Are you a Click and Mortar business, which combines traditional and online distribution? Integrate local SEO into your Organic SEO strategy, to increase your website's visibility and attract visitors to a point of sale in a defined area, namely your catchment area.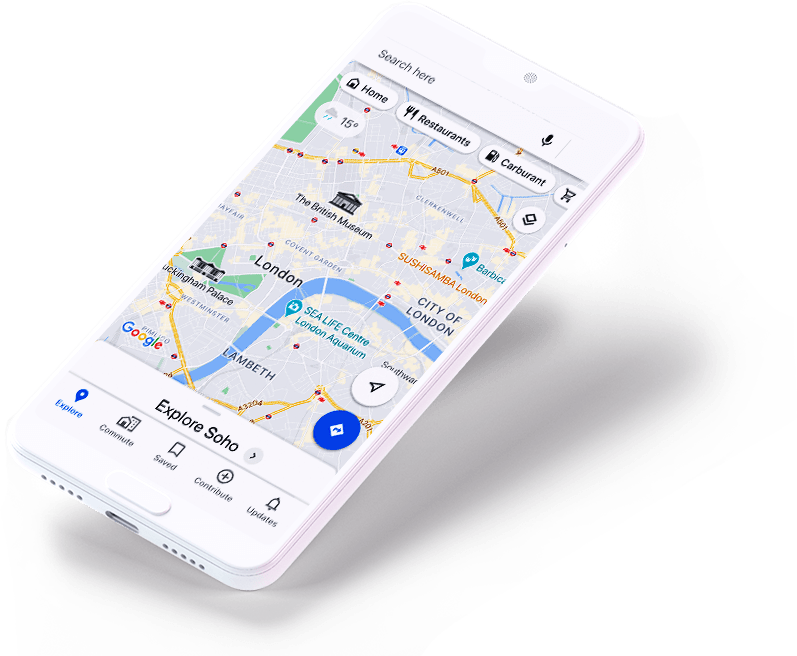 Search Engine Advertising (SEA)
Search Engine Advertising (SEA) refers to advertisements on search engines, or on social networks.
This search engine advertising involves buying extremely qualified traffic through key words, on a Cost per Click model. We also talk about "sponsored links", where the advertiser (the merchant) pays for each click made on their advertisements.
Among the various advertising network agencies on the Internet, the Google search engine – Google Ads – is a must. It consolidates the various online advertisement tools on the search network, Display, Shopping, YouTube and even Gmail.
More than one in two internet users use sponsored links when searching for a product (source: IFOP). Do you want to take advantage of the potential of SEA for your e-commerce business? Here are its advantages:
visibility and immediate results,
access to a very large audience,
the possibility to target the right people, at the right time and in the right place,
precise control of return on investment.
If search engine advertising proves to be essential, we will nevertheless note some limits:
a regular increase in costs, linked to the increase in competitive pressure (positioning in the results works on an auction system, and very often, bidding between competitors))
the need for real expertise to optimise the return on investment for every campaign.
Our advice:
Defining your content and link building strategies is essential. Expert support will allow you to increase the positioning of your site, and optimise these two levers, over time.
At the same time, note that relying on a SaaS platform – which allows you to design a site that natively fulfils all SEO technical good practice – will free you from the technical aspect of organic SEO. In practical terms, pooling these allows large scale optimisations and tests. As a result: all customers benefit from an SEO-friendly solution that meets the latest search engine technical requirements, and in particular Google.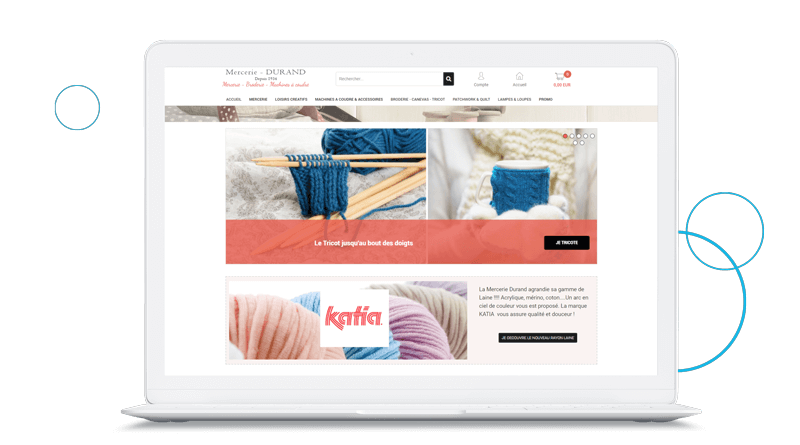 An example of best practice: Jean-Patrick Durand, gérant de la mercerie en ligne mercerie-durand.com, confie dès 2014 la gestion de ses campagnes publicitaires à nos consultants Oxatis. Seulement trois mois après le début des campagnes SEA, les premiers résultats se sont fait sentir : doublement du taux de clics et du taux de conversion, pour un gain plus de 2 fois supérieur à l'investissement de départ.
SEO x SEA: towards a global SEM strategy
Increase awareness of your e-commerce site and its audience by working on your organic SEO and your search engine advertising campaigns at the same time in a global Search Engine Marketing (SEM) strategy:
sponsored link campaigns allow you to sell quickly, particularly when you are starting up your business, during sales, for a product launch…
while optimising your positioning in the organic results increases awareness of your site and/or brand.
Organic results make it possible to strengthen positions on paid requests with great potential. Seeing organic results for a site combined with paid advertisements would increase the feeling of trust in a brand, which would encourage internet users to visit a site which had 2 types of results rather than another.

Another beneficial effect of the SEO/SEA combination: analysis of paid campaigns provides invaluable information about internet users' search requests – information which then makes it possible to optimise the content of the organic SEO strategy, and ultimately, improve the Google Quality Score on the pages of your site.
Complementarity is also a matter of strategy. SEA can be used to compensate for any potential shortcomings in SEO, or to test the profitability of new keywords before engaging SEO efforts.
In simple terms, if you thought that your SEA and Organic SEO strategies had to be separate, unfortunately you were on the wrong track.
The combination of SEO & SEA is probably the key to the success of many e-merchants for short-term and long-term visibility.
Social Media Optimisation (SMO)
Social Media Optimisation is a set of methods aimed at increasing awareness of your site, and attracting visitors to its online store, through sharing content on social media (Facebook, Snapchat and Instagram, to name a few).
The main advantage of a social media strategy for the visibility of your e-commerce: its reach – and, in turn, its potential to generate traffic – is undeniable (the number of users worldwide is close to 3 billion, or around a third of the world's population- source: eMarketer). These figures, added to the latest innovations in advertising and online shopping, make social platforms an essential communication lever for e-merchants who are looking to maximise the visibility and awareness of their website whilst differentiating themselves from the competition.
Other points of consideration to take into account: the need to regularly post on these media, and to keep up with your e-reputation, in particular because of potential bad buzz.
Our advice: use this channel as an additional source, and not as the only source of visitors.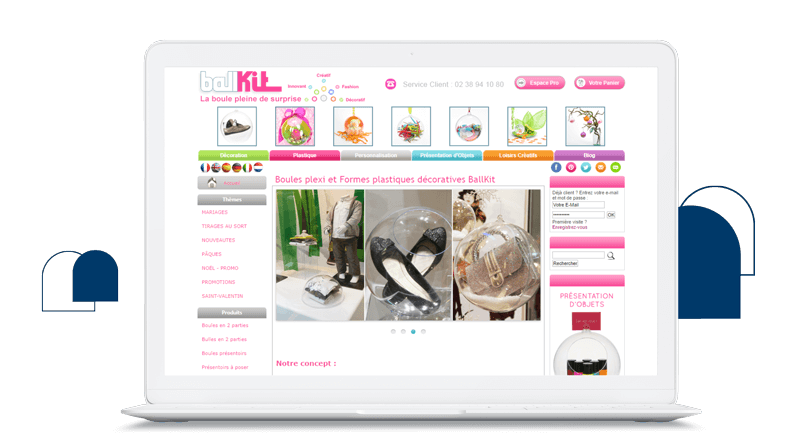 An example of best practice: le site Ballkit.com, créateur et fabricant de formes et boules plastiques destinées à la décoration, s'appuie sur les réseaux sociaux pour partager les avis de ses clients, ses nouveautés produits et ses promotions, ce qui lui assure de maintenir un lien permanent avec ses clients et sa communauté. Après un an de communication et d'animation sur les médias sociaux, le trafic vers son site Web a augmenté de 30 %.
Marketplaces and price comparator
Listing your e-commerce catalogue on shopping channels such as marketplaces, affiliation networks and price comparators allows you to take advantage of the traffic of e-commerce giants such as Amazon, eBay or even AliExpress.
Major advantage of listing on shopping channels: traffic is, in essence, highly qualified, with a cost per click (CPC) or cost per acquisition (CPA).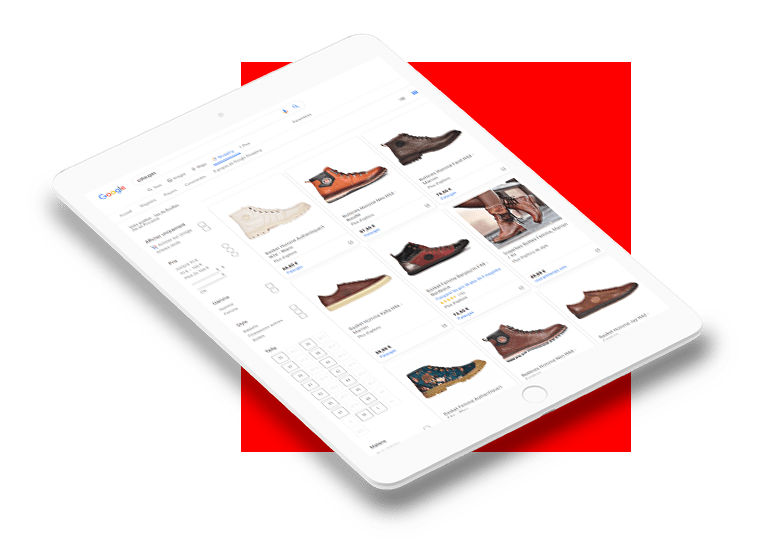 To pull your products to the top of the results on comparators and other marketplaces, it is essential to work on the content strategy of your catalogue – keywords in titles and descriptions, attributes, quality visuals etc. – alongside your pricing strategy.
One drawback to note: each platform has its own listing rules, which also differ from the Google algorithm guidelines.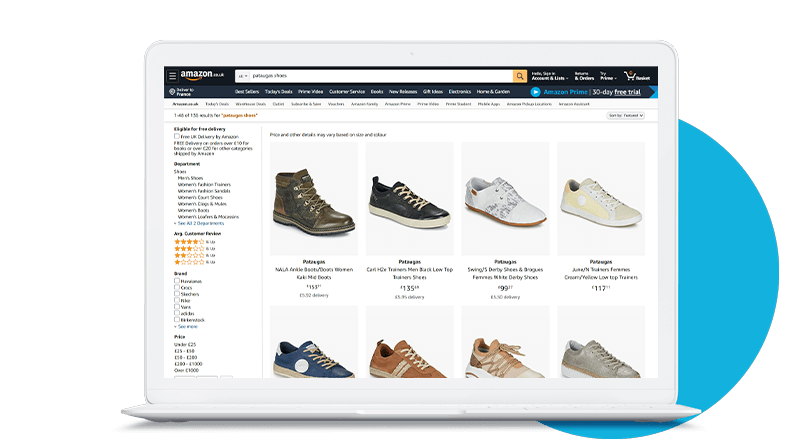 Our advice: posting your products on a shopping channel ideally means interfacing your site with the marketplace or comparator. This is in order to be able to easily manage the distribution of your catalogue, and the exchange of product flows, stock and orders directly in a single administration interface.
An example of best practice: Un des principaux facteurs du succès du site Papilles Détendues, épicerie bio en ligne, repose sur la puissance des leaders du e-Commerce. Avec de nouveaux produits postés chaque jour sur Amazon, Cdiscount, Priceminister et Google Shopping, 50 % des ventes de la marque sont générées sur les places de marché, et 27 % sur les comparateurs de prix.

Do you have any questions?