How do you choose the most suitable e-commerce solution for your web project and your business ambitions?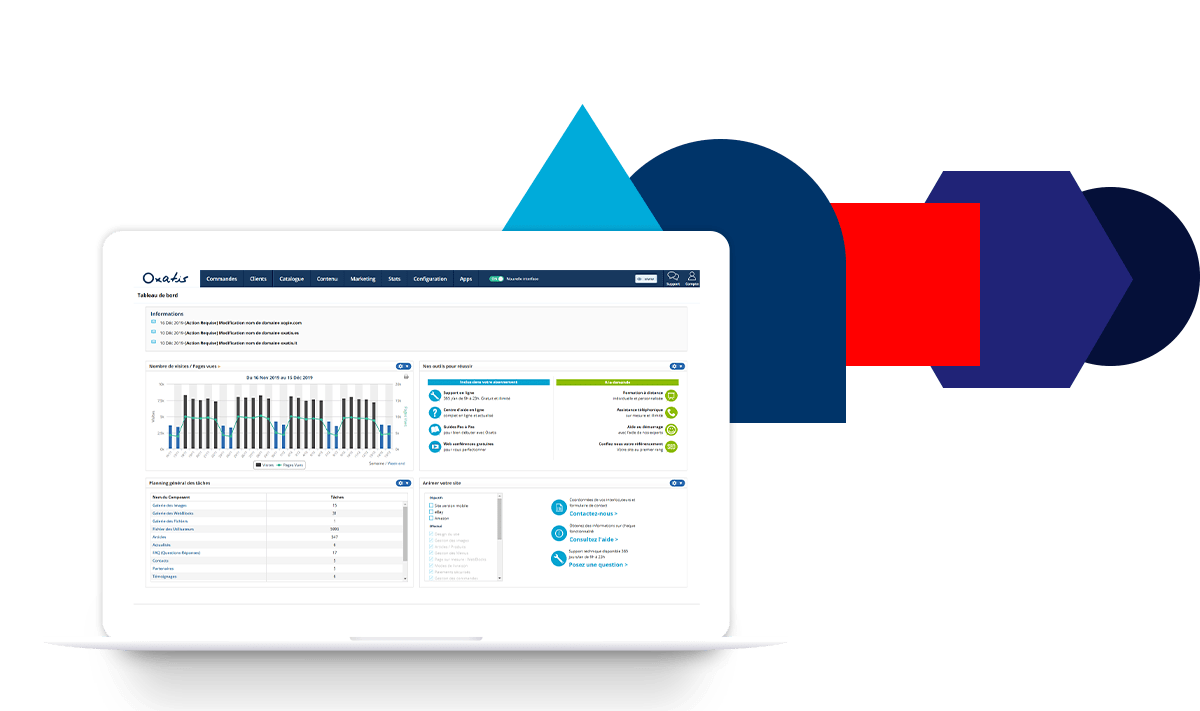 Choose the right e-Commerce platform
All the criteria to take into account to make the right choice
Are you considering launching your e-commerce business? Or planning to develop your existing site? In both cases, you should review the various site design solutions out there, such as SaaS as well as Open Source.
The first step in making your choice: define the type of technology which matches your needs and resources.
Second step: among the various operators, choose the one who will offer the most reliable and efficient solution to support your growth, in the long term.
To help you in this strategic choice, here is a dedicated guide, which is aimed at businesses who want to create their online store or redesign their existing e-commerce site.
check_boxSaaS vs Open Source: the specific features and the organisational impacts for your business
check_boxThe advantages of e-commerce SaaS solutions
check_boxThe criteria to evaluate to define the CMS best suited to your needs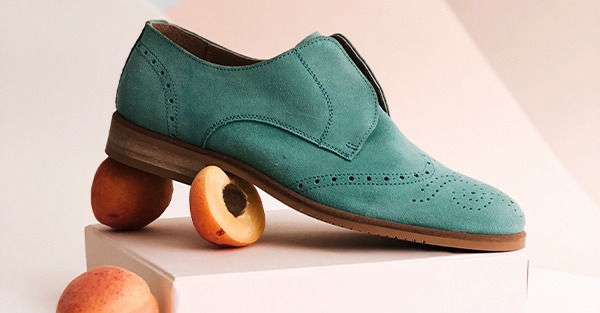 Your e-commerce website drives traffic but the impact on turnover and conversions is not exponential. This is normal. You're only halfway to converting like never before. Put yourself in your customers' shoes: they came to your site because they are interested in your offer. You've made sure you have a clear navigation that takes them directly to where they want to go: to the product page. Here's what you need to achieve: when a visitor arrives on your product page, they are just one click away from ordering.
SaaS vs Open Source: the specific features and the organisational impacts for your business
Before going into detail about the specific features of SaaS and Open Source platforms, we will provide some clarification on the terms.
Le Software as a Service – SaaS – is not too distant from the cloud since it is a component of it. We talk about cloud computing for everything related to interacting with a remote server to store or use data. In the world of the cloud we find various technologies such as IaaS, PaaS, SaaS and even DaaS (I for Infrastructure [as a Service], P for Platform, S for Service and D for Desktop).
As the name suggests, Software as a Service consists of consuming and using the software differently: the product becomes a service. Why? Because it is faithful to cloud technologies which want the software to be installed on a remote server and no longer on your computer. It is then accessed via a web page through a simple username and password combination.
Therefore the user no longer buys software but signs up to a subscription, which links to an access right, to be paid depending on its use.
One of the pioneering operators in SaaS is Salesforce, the leader in business management tools with more than 150,000 customers worldwide. Another well-known example is Google's Gmail messaging service. Yes, it works well in SaaS mode.
SaaS solutions are gradually replacing software which are traditionally used in business and their growth is not about to stop.
Open Source technology is another type of software commonly used in business. Literally, it is royalty-free software, free and improved by a community of users. It is traditionally compared to SaaS because they are complete opposites in their mode of distribution, installation, use and maintenance.
Distribution: unlike SaaS, which is sold in subscription service mode, almost all Open Source software can be downloaded for free from the internet.
Installation : in On-Premisemode, that is, the software and its data are installed directly on your internal infrastructure – your computer or data server – and use its resources.
Use: Open Source software launches from your computer through an independent application.
Maintenancesince the software is installed on your infrastructures, it's up to you to ensure its maintenance and security, to install updates etc.
In short, Open Source leaves you responsible for the IT management of the software since you have to install, deploy, secure and maintain the solution. Think about including these operating costs in your budget forecasts.
In terms of the impacts of e-commerce SaaS on your organisation, here is a summary table of the benefits and key points to take into account when evaluating the available software solutions.
Benefits
Elimination of technical constraints: everything is managed by the SaaS solution publisher. No technical skills are required internally and you can start using your software quickly.
Streamlining of expenditure: in SaaS mode, you sign up to a subscription and control your spending (whereas in Open Source mode, you allocate material and human costs to running the software).
Publisher support: you are not alone and left to yourself, the SaaS solution publisher can provide you with many other support services, in addition to access to their software.
Digital transformation: SaaS helps you to respond to the new challenges of today and tomorrow.
Criteria to be evaluatedDependence: there is a clear degree of dependence between you and the publisher of your chosen solution. What elements should you take into account to optimise this dependence?
Security and publisher responsibility: the publisher is responsible for securing the hosting servers, the development of the platform, technical and legal compliance, and data protection. You must ensure that they implement all the essential means to secure and develop their infrastructure.
Availability: it's not your computer's power that will make the software work properly, but the internet connection that links you to your publisher. At the same time, their servers must guarantee 24/7 accessibility to your e-commerce site, even in busy periods.
Right to modification: the fact that your databases are hosted, and in a way relocated, on your publisher's servers doesn't change the fact that they belong to you. But how do you recover and reuse them when needed?
The advantages of
e-Commerce

SaaS solutions
Elimination of technical constraints 
In terms of the very activity of your business, offloading the technical constraints to the publisher of the chosen solution will allow you to refocus on your core business.
At the same time, by removing these technical constraints, large savings are made:
– in time: thanks to rapid deployment, you start using your new software immediately.
– in recruiting human resources: this is reduced, qualitatively and quantitatively. You will not need the support of an internal IT administrator. And if you have this resource, their workload in connection with the SaaS solution will be considerably reduced throughout the use of the software. Remember, it's not only the installation of the software that is removed but its maintenance and also its development.
Relieved from these technical constraints, everyone internally can focus on their job.
Streamlining of expenditure
The SaaS-specific subscription financial model turns the tables upside down. In the case of a SaaS solution, the publisher will pool its technical infrastructure to offer the same quality of service to all of its customers.
The customers themselves pay a subscription based on their use of the service, and they are guaranteed to benefit from robust, stable and secure hosting and infrastructure.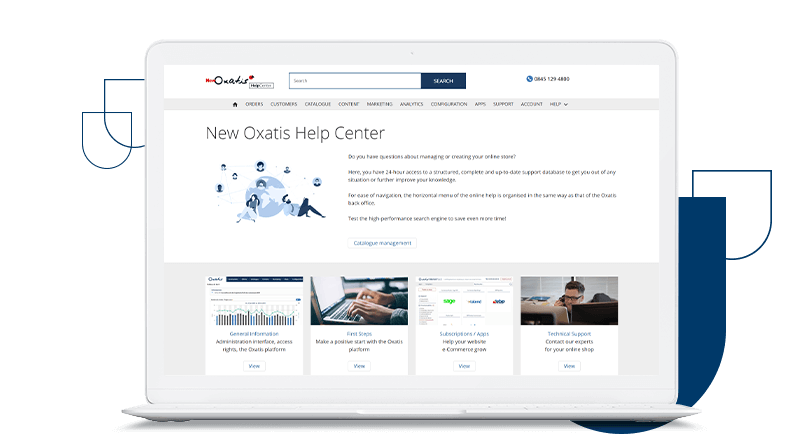 Customer support
SaaS is a service. Or rather SERVICES! You will benefit from included technical support as a minimum with any publisher. Before choosing your SaaS solution do some research on this team, because policies differ from one publisher to another. Some will allocate few resources to this while others might put this customer support at the heart of their service proposal.
Many SaaS publishers offer additional service provisions at the same time: design, visibility, web animation, content creation… Another element to take into account when choosing a service provider!
Digital transformation
SaaS responds to a real need for all companies wishing to begin or continue with their digital transformation, without actually having substantial IT resources.
At the end of 2019 the research and advisory firm Gartner published a study, presenting expenditure and forecasted expenditure for end-users of cloud services, including SaaS. These investments are likely to double in almost 3 years:
| | | | | | | |
| --- | --- | --- | --- | --- | --- | --- |
| Segment | | 2018 | 2019 | 2020 | 2021 | 2022 |
| Cloud Application Services (SaaS) Total* | | 2 465 | 2 925 | 3 414 | 3 886 | 4 376 |
*Inmillion US dollars!
[Replatforming case study]
Migration from Open Source to SaaS, to improve performance
The Maison Lascours case is a good illustration of the advantages of SaaS.
Founded in 1922, Maison Lascours is an upmarket butchers, with 4 shops in the Toulouse region. In 2010, the family business decided to rely on a digital agency using Open Source software to create and manage their e-commerce website.
The commercial site showed great potential, but it was under-used to a great extent, in particular due to the web agency's lack of reactivity. However using this agency was logical as internally the butchers did not have human or material resources to use the Open Source software.
In 2016, realising the e-commerce potential of its business without being able to take advantage of it, the company decided to migrate its commercial site to a SaaS solution and chose New Oxatis.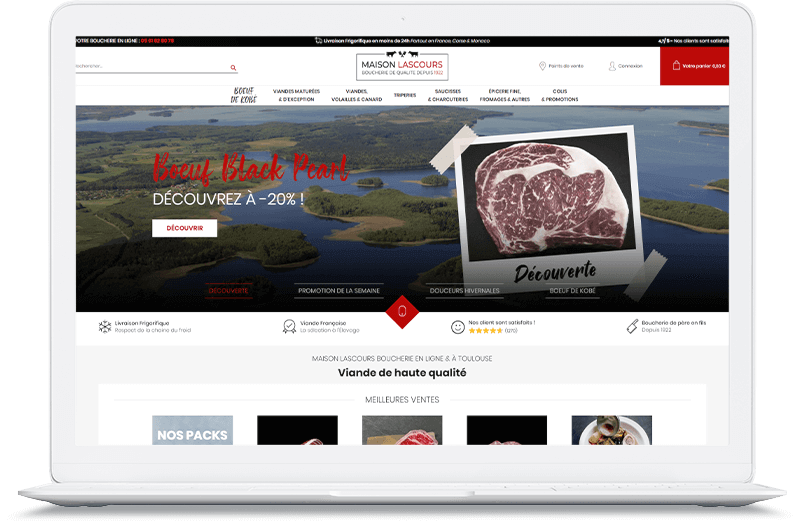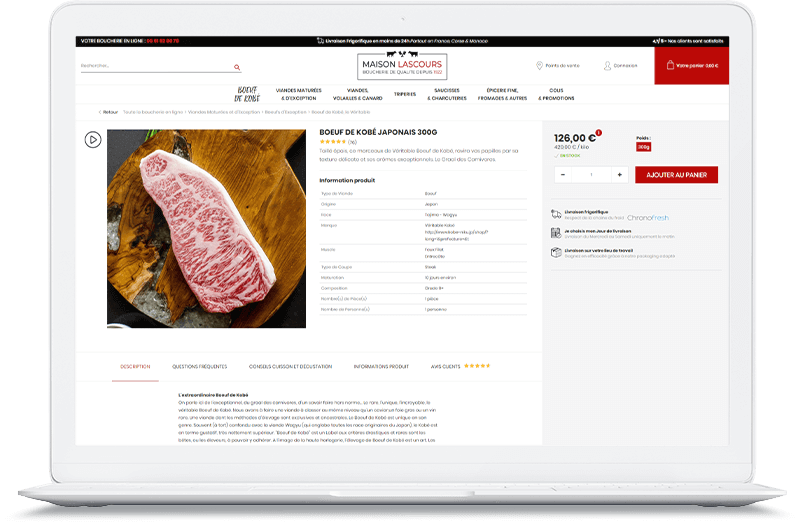 The results were immediate, seeing as the first month after the migration the company generated an online turnover of €50,000, then achieved an overall growth of 35%. The site is the equivalent of a 5th shop.
The speed of these results is explained by the rapid deployment of the new site with the SaaS solution as well as the advice of the publisher, an expert in this type of migration.
Next, the stability and the growth of the results were made possible thanks to two levers:
– the e-commerce features available on the SaaS platform, and bespoke tools such as the specific order-taking and delivery management modules (linked to the constraints of the butcher profession),
– the continuous support of the publisher, particularly in terms of SEO and site design. Results: the site's attractiveness has increased; the catchment area has widened and there are plenty of customers.
Criteria to evaluate in order to define the CMS best suited to your needs
Dependence
As you can see, as a subscriber, you will not be the owner of the software or the infrastructures that host your data. You pay an access fee to use the CMS.
Our recommendation: choose a stable and trusted publisher.
Among the criteria that you can take into account to check the sustainability of your service provider:
check_boxnumber of customers and examples of completed projects,
check_boxhosting data performance,
check_boxthe partners ecosystem,
check_boxthe profile and size of the teams within the company.
Security and publisher responsibility
The issue of data security is also paramount. It's all for nothing if the General Directorate for Internal Security has decided to mass recruit candidates from cybersecurity. Who wants to see their user or customer data used by a competitor?
Good news, with SaaS, you will be dealing with publishers who pool their customer's resources to continuously optimise the performance and the security of their server and network infrastructure. Something which will be more complex to set up with your own equipment internally because it requires a substantial budget and human and material resources.
Our recommendation: take an interest in the technical infrastructures and security systems offered, and opt for installations located in your country, or at least the European Union.
Also do some research on your publisher's update policy and commitments to developing the solution.
Availability
Your site must always be available to your visitors and your customers, even more so during periods of peak seasonal activity (such as during sales, holiday season or any other special event for example).
Our recommendation: do some research on the availability rate and the service guaranteed by your SaaS provider's servers. They must be designed to be redundant and to support the seasonality of sales, without impacting performance. The network connections must make good use of the very high capacities and easily absorb all peak traffic, whilst maintaining outstanding performance.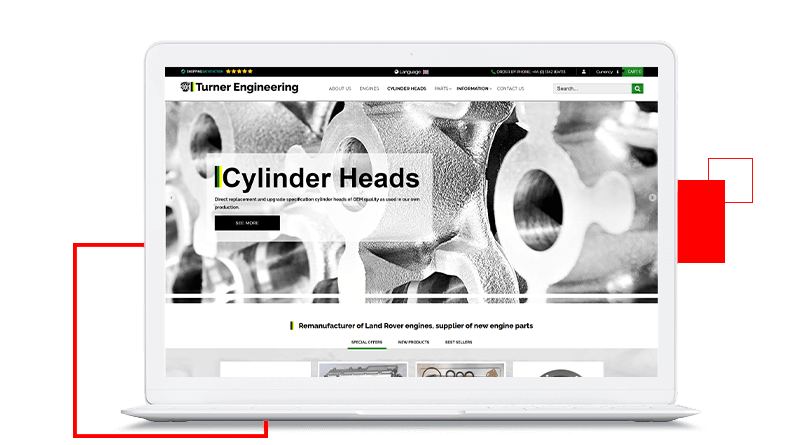 Right to modification
You have unlimited access to your data but how do you retrieve your databases if, for example, you wish to change the tool or interconnect it with another IT system?
Our recommendation: it is best to speak with your supplier and ensure beforehand that there is a way to extract and use the data! Excel formats and connectors are often available but do some research first to find out what extraction and connection type(s) your publisher can provide you with.

Do you have any questions?